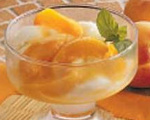 Prep: 10 min
Cook Time: 15 min
Total: 25 min
Serving: 6 servings
Creamy amaretto cooked peach ice cream or cake topper.
Ingredients
4-1/2 cups peeled, sliced fresh peaches
1/2 cup amaretto liqueur
1/2 cup sour cream
1/2 cup packed brown sugar
Directions
Arrange the peaches in a 2-quart baking dish. Pour the liqueur over and spread the sour cream on top. Evenly sprinkle the brown sugar over.
Broil until the sugar has melted and the dish is heated through.