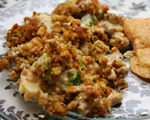 Prep: 45 min
Cook Time: 45 min
Total: 1 hr 30 min
Serving: 4
Alturas Casserole is made with fillet of sole and fresh vegetables.
Ingredients
3 potatoes, cut in half crosswise
1 pound fillet of sole
1 tablespoon lemon juice
1 teaspoon salt
1 medium onion, sliced
1 medium red pepper, sliced
1 medium green pepper, sliced
1/2 teaspoon white pepper
1 large tomato, sliced
2 teaspoons butter
Directions
Cook potatoes in 1 inch boiling salted water in covered saucepan for 20 to 25 minutes or until tender but not crumbly. Drain and peel; cut into 1/8 inch slices.
Arrange sole in single layer in shallow baking dish. Sprinkle with lemon juice and 1/2 teaspoon salt. Let stand 30 minutes.
Place layer of potatoes in shallow 2 quart casserole. Layer half the onion and red and green pepper slices over potatoes. Arrange sole in single layer over vegetables; sprinkle with salt and pepper. Layer onion, pepper slices, tomato and potatoes in order listed. Dot with butter.
Bake at 250 degrees F for 30 minutes.