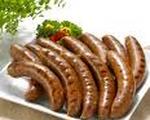 Prep: 15 min
Cook Time: 10 min
Total: 25 min
Serving: 6-8
The ultimate holiday appetizer, Aloha Sausage blends the sweet flavors of the islands in a great dish to serve hot in a crockpot or chafing dish.
Ingredients
2 packages Brown and Serve Sausages
1/2 cup light brown sugar
1/2 teaspoon cornstarch
1/4 cup white vinegar
1 cup pineapple chunks
1/2 cup pineapple juice
1/2 cup water
1/2 cup green pepper, seeded and diced into 3/4 inch chunks
1/2 cup maraschino cherries
Directions
Cut sausage into thirds and brown.
Mix cornstarch and liquids and boil for 5 minutes.
Add remaining ingredients and keep warm in a chafing dish or small crockpot. Serve with toothpicks.