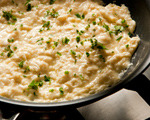 Prep: 5 min
Cook Time: 7 min
Total: 12 min
Serving: Makes 1 omelet
This omelet is primarily made with egg whites yet includes a whole egg for some richness and flavor. Serve garnished with finely chopped fresh herbs.
Ingredients
2 large egg whites
1 large egg
2 teaspoons whole milk
1/4 teaspoon sea salt
1/8 teaspoon freshly ground black pepper
1 tablespoon unsalted butter
1 teaspoon finely chopped fresh herbs, such as parsley, chervil, or chives, plus more to garnish
Directions
Put the egg whites, egg, milk, salt and pepper into a bowl and whisk until the mixture is frothy.
Place the butter into a large sauté pan or a skillet over medium heat. Once the butter begins to foam, add the egg mixture and rotate the pan to distribute the egg.
After about 3 minutes, and once the eggs have just set, sprinkle with the fresh herbs and then carefully fold the omelet in half. Cook the omelet for an additional 1-1/2 minutes over medium-low heat and then serve immediately garnished with additional herbs.