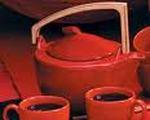 Prep: –
Cook Time: 4 min
Total: 4 min
Serving: 4 cups
All nonherbal teas come from Camellia sinensis, a leafy flowering shrub that's native to Asia but is now grown in subtropical and tropical climates worldwide.
The buds, leaves, and twigs are picked at various times and roasted or steamed in different manners to produce the four main variants of true tea: green, oolong, black, and white. (Brews made from herbs, flowers, spices, and fruits are not teas, but infusions or tisanes.)
Here's an easy recipe for delicious almond twist tea.
Ingredients
4 tea bags of your favorite variety
1/2 teaspoon lemon zest
1/2 cup Splenda
2 tablespoons lemon juice
3/4 teaspoon almond extract
1/4 teaspoon vanilla extract
4 cups water
Directions
Steep tea with lemon zest in boiling water for 3 1/2 minutes.
Add Splenda, lemon juice, almond extract, and vanilla. Serve hot.