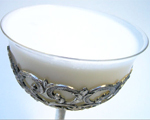 Prep: 2 hr
Cook Time: 15 min
Total: 2 hr 15 min
Serving: Makes 1 quart
You can drizzle this syrup over desserts, or add it to cocktails that call for a simple syrup.
Ingredients
4-1/2 cups water
20 ounces ground almonds
6 cups sugar
3 tablespoons bitter almond extract
2 oranges, juices
Directions
Place the water in a large pot and bring to a boil over high heat.
Add the almonds to the pot and return to a boil.
Remove the pot from the heat and allow the mixture to completely cool before straining the liquid and returning to the pot.
Place the almond extract, sugar, bitter almond extract, and orange juice in the pot and bring to a boil. Cook the mixture until it reaches a thick syrup-like consistency. Remove from the heat and allow to cool before refrigerating until future use.