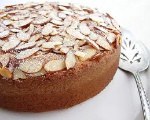 Prep: 20 min
Cook Time: 30 min
Total: 50 min
Serving: 9 squares
Upside down almond cake, uses the orange filling recipe found here.
Ingredients
2 tablespoons butter or margarine
1 tablespoon sugar
1/3 cup chopped almonds
1 white or yellow cake mix
Orange filling
Directions
Melt butter in an 8 inch square pan, spread across the bottom. Sprinkle with sugar and almonds.
Make the cake according to the directions and carefully pour over the nuts.
Bake at 375 degrees Fahrenheit for 25-30 minutes. Invert onto a rack and allow to cool.
Split the cake into 2 layers and fill with the cooled orange filling before cutting into 9 squares.