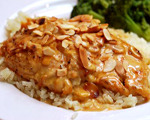 Prep: 15 min
Cook Time: 1 hr
Total: 1 hr 15 min
Serving: 6
Elegant, curry flavored Almond Chicken Baked in Cream is perfect for a dinner party.
Ingredients
1 teaspoon each celery salt, paprika and salt
1/2 teaspoon each curry powder, crushed oregano and pepper
7 tablespoons butter, melted
3 1/2 pound chicken pieces
flour
3/4 cup almonds, sliced
1 1/2 cups half and half
1/2 cup sour cream
3 tablespoons fine dry bread crumbs
Directions
Blend seasonings with 6 tablespoons butter in bowl. Coat chicken pieces with flour. Dip chicken in seasoned butter. Arrange in single layer in large baking dish. Sprinkle with almonds. Pour half and half around chicken pieces.
Bake covered, at 350 degrees F for 45 minutes. Spoon 1/2 cup pan drippings into sour cream, mixing well. Pour evenly over chicken.
Sprinkle with crumbs mixed with remaining tablespoon butter. Bake uncovered, for 15 minutes longer.