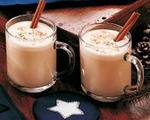 Prep: 10 min
Cook Time: 12 min
Total: 22 min
Serving: 16 servings
A delicious drink to serve over the holidays, garnish each beverage with a cinnamon stick and some freshly ground nutmeg.
Ingredients
1 cup butter, cubed
1 cup sugar
1 cup packed brown sugar
2 cups vanilla ice cream, softened
2 teaspoon almond extract
Ground nutmeg to garnish
Cinnamon sticks to garnish
Directions
Put the butter and sugars into a small saucepan and melt over medium heat, stirring frequently.
Once the sugar has dissolved, about 12 minutes, transfer the mixture to a large bowl and add the ice cream and almond extract.
Using a handheld mixer beat the mixture for 2 minutes, scraping the sides of the bowl when needed.
Place 1/4 of the butter mixture into a mug and then stir in 3/4 cup of boiling water. Garnish with a cinnamon stick and a few sprinkles of freshly grated nutmeg. Serve immediately.