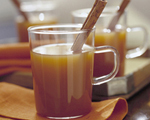 Prep: 5 min
Cook Time: 10 min
Total: 15 min
Serving: 6 Servings
Use fresh apple cider from your local farmers market for this fall drink.
Ingredients
1 tablespoon whole allspice
1 cinnamon stick
3 cups apple cider
1 cup orange juice
1/2 lemon, slice
1-1/2 teaspoons honey
1/4 cup brandy
Cinnamon sticks to garnish
Directions
Place the allspice into a piece of cheesecloth, and tie shut.
Place the cheesecloth into a large saucepan, along with the cinnamon stick, cider, orange juice, lemon slices and honey, and bring to a boil.
Once the mixture boils, reduce heat to a simmer and cook, covered, for 5 minutes.
Remove the cheesecloth and add the brandy. Stir and serve hot garnished with cinnamon sticks.