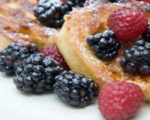 Prep: 8 hr 30 min
Cook Time: 25 min
Total: 8 hr 55 min
Serving: 6-8 servings
For a tasty breakfast treat, try this baked French toast casserole with cinnamon raisin bread and Kellogg's All-Bran® cereal.
Ingredients
10 slices cinnamon raisin bread, cubed
500 millilitres (2 cups) All-Bran Buds® cereal
5 eggs, beaten
425 millilitres (1-3/4 cups) milk
250 millilitres (1 cup) brown sugar, divided
1 millilitres (1/4 teaspoon) cinnamon
1 millilitres (1/4 teaspoon) nutmeg
125 millilitres (1/2 cup) slivered almonds or walnuts
50 millilitres (1/4 cup) butter, melted
500 millilitres (2 cups) fruit, such as berries, bananas or peaches (optional)
Directions
Spread bread and All-Bran Buds® cereal into a greased 23 x 33-centimetre (9 x 13-inch) pan.
In a medium bowl, combine eggs, milk, 175 millilitres (3/4 cup) brown sugar, cinnamon and nutmeg. Pour over bread and cereal mixture; toss gently to coat. Cover and refrigerate for at least eight hours, or overnight. Remove from fridge 30 minutes prior to baking.
Preheat oven to 200 degrees C. (400 degrees F.). Sprinkle bread mixture with nuts. Combine butter and remaining sugar, and drizzle over top. Bake, uncovered, for 20 to 25 minutes or until set and lightly browned. Cut into six to eight pieces and serve with fresh fruit.