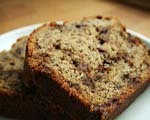 Prep: 15 min
Cook Time: 1 hr
Total: 1 hr 15 min
Serving: 12 slices
Moist banana-walnut bread made with Kellogg's All-Bran® cereal
Ingredients
425 millilitres (1-3/4) cups all-purpose flour
7 millilitres (1-1/2 teaspoons) baking powder
2 millilitres (1/2 teaspoon) baking soda
2 millilitres (1/2 teaspoon) salt
2 eggs
125 millilitres (1/2 cup) vegetable oil
75 millilitres (1/3 cup) 2-percent milk
7 millilitres (1-1/2 teaspoons) vanilla
250 millilitres (1 cup) All-Bran Original® cereal
250 millilitres (1 cup) mashed ripe banana (2 to 3)
175 millilitres (3/4 cup) packed brown sugar
175 millilitres (3/4 cup) coarsely chopped walnuts or pieces (optional)
Directions
In medium bowl, stir flour, baking powder, soda and salt. Set aside.
In large bowl, lightly beat eggs. Stir in oil, milk, vanilla and All-Bran® cereal; let stand.
Mash banana; stir into egg mixture. Stir in brown sugar.
Stir in dry ingredients, mixing just until combined. Stir in nuts, if using.
Spread evenly in 23 x 13-centimetre (9 x 5-inch) loaf pan, lined on bottom and two longer sides with foil. Bake at 180 degrees C. (350 degrees F.) for 50 to 55 minutes, or until wooden pick inserted in center comes out clean. Remove to cooling rack; let cool five minutes. Remove from pan; discard foil. Let cool completely.