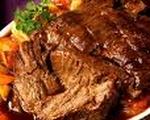 Prep: 25 min
Cook Time: 3 hr
Total: 3 hr 25 min
Serving: 8
All American Pot Roast is a classic favorite served with wide egg noodles.
Ingredients
2 tablespoons corn oil
1 pound carrots, cut in chunks
1 cup onions, chopped
1 bay leaf
1/4 cup cornstarch
1/2 teaspoon dried thyme
1 large onion, cut in wedges
3 pound boneless bottom round roast
1, 8 ounce package extra wide egg noodles, cooked and drained
1/4 teaspoon pepper
3 cups beef broth
2 garlic cloves, minced
1/2 teaspoon salt
1/4 cup water
Directions
Heat corn oil over medium high heat in a 5 quart Dutch oven. Add beef and brown all sides. Add broth, chopped onion, garlic, bay leaf, thyme, salt and pepper. Bring to a boil. Reduce heat. Cover and simmer for 2 hours.
Add carrots and onion wedges, Simmer for 30 minutes or until beef and carrots are tender. Remove beef and discard bay leaf.
Make the gravy: in a small bowl, stir cornstarch and water until smooth. Stir into liquid in Dutch oven. Stirring constantly bring to a boil for 1 minute. Toss cooked noodles with 2 cups gravy. Serve with sliced beef, carrots, onions and remaining gravy.