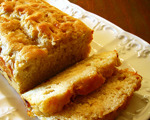 Prep: 1 hr 30 min
Cook Time: 1 hr
Total: 2 hr 30 min
Serving: 8
Hearty bread sure to please hungry tummies!
Ingredients
1 package yeast
1/8 teaspoon ginger
3 tablespoons sugar
1, 13 ounce can evaporated milk
2 tablespoons oil
1 teaspoon salt
4 to 4 1/2 cups flour
Directions
Dissolve yeast in 1/2 cup warm water in bowl. Blend in ginger and 1 tablespoon sugar. Let stand for 15 minutes.
Stir in milk, oil, salt and remaining 2 tablespoons sugar. Beat in 3 cups flour, 1 cup at a time, with electric mixer at low speed. Stir in enough remaining flour to make heavy, sticky dough. Place in greased 2 pound coffee can.
Let rise, covered, until doubled in bulk or until above top of can. Bake at 350 degrees F for 60 minutes. Brush with butter. Cool 5 to 10 minutes on rack before removing bread.