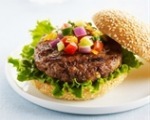 Prep: 10 min
Cook Time: 20 min
Total: 30 min
Serving: 8 patties
Burgers made with ground beef, sausage and Kellogg's All-Bran® cereal
Ingredients
250 millilitres (1 cup) All-Bran Buds® or All-Bran Original® cereal
500 grams (1 pound) hot Italian sausages
225 grams (1/2 pound) lean ground beef
1 small onion
2 cloves garlic
1 egg
30 millilitres (2 tablespoons) grated Parmesan cheese
15 millilitres (1 tablespoon) Worcestershire sauce
2 millilitres (1/2 teaspoon) each salt and fresh cracked pepper to taste
Directions
Process cereal in blender until it resembles coarse crumbs.
In bowl, combine sausage, beef, cereal, onion, garlic, Parmesan, Worcestershire, salt and pepper.
Form into eight patties and grill or pan fry until meat is no longer pink, about eight minutes per side. Serve warm on toasted buns with sliced cheese and your favorite burger toppings.