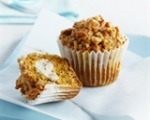 Prep: 20 min
Cook Time: 30 min
Total: 50 min
Serving: 12 muffins
Delicious carrot muffins made with Kellogg's All-Bran® cereal, with a cream cheese filling and crumbled walnut topping
Ingredients
500 millilitres (2 cups) All-Bran Original® or All-Bran Buds® cereal
15 millilitres (1 tablespoon) baking powder
300 millilitres (1-1/4 cups) all-purpose flour
5 millilitres (1 teaspoon) ground cinnamon
1 millilitre (1/4 teaspoon) nutmeg
1 millilitre (1/4 teaspoon) salt
1 egg
75 millilitres (1/3 cup) vegetable oil
150 millilitres (2/3 cup) brown sugar
125 millilitres (1/2 cup) buttermilk
375 millilitres (1-1/2 cups) grated carrot
FILLING
125 millilitres (1/2 cup) cream cheese
15 millilitres (1 tablespoon) granulated sugar
15 millilitres (1 tablespoon) vanilla
TOPPING
30 millilitres (2 tablespoons) butter
30 millilitres (2 tablespoons) brown sugar
30 millilitres (2 tablespoons) flour
2 millilitres (1/2 teaspoon) cinnamon
125 millilitres (1/2 cup) chopped walnuts
Directions
In a large bowl, combine cereal, flour, baking powder, cinnamon, nutmeg and salt.
In a separate bowl, beat egg and oil until light and foamy. Whisk in brown sugar and buttermilk until well combined. Stir flour mixture into egg mixture until just combined. Fold in carrots.
In a separate bowl, combine cream cheese with sugar and vanilla.
In small bowl, use fork to combine butter, brown sugar, flour, cinnamon and walnuts.
Divide half of the muffin mix among 12 greased or paper-lined muffin cups. Divide cream cheese mixture over each. Top with remaining batter and sprinkle topping evenly over each.
Bake at 180 degrees C. (350 degrees F.) until a cake-tester toothpick comes out clean, about 25 to 30 minutes.