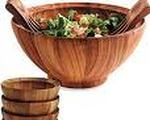 Prep: 35 min
Cook Time: 10 min
Total: 45 min
Serving: 4
Alamo Fajita Salad is served in tortilla shells for a festive family meal.
Ingredients
4 corn tortillas salad shells
1 pound rib eye steak, cut into strips
1 clove garlic, minced
1/4 teaspoon salt
1 tablespoon vegetable oil
2 1/2 cups spicy or mild picante sauce or salsa
1/4 cup Italian salad dressing
1 cup cherry tomatoes, halved
5 cups pre-washed salad greens
Directions
Heat salad shells according to package directions.
In a large skillet over medium-high heat, stir-fry beef, garlic and salt in oil until beef is no longer pink.
Remove beef from pan. Add picante sauce, salad dressing and tomatoes. Bring to boiling.
Add beef; heat through.
Divide salad green between corn shells. Spoon beef mixture over lettuce.