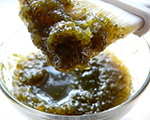 Prep: 5 min
Cook Time: 10 min
Total: 15 min
Serving: Makes about 1-1/4 cup
Marinate your ribs in this sweet and savory apple nectar and cilantro glaze the night before grilling. Also works on shrimp and chicken.
Ingredients
1/4 cup fresh lime juice
1/4 cup canola oil
1/4 cup fresh cilantro, chopped
1/4 cup Italian parsley, chopped
3 large scallions, rough chopped
1/4 cup Agave Nectar
4 Cloves Garlic, minced
A few dashes of hot sauce or crushed red pepper flakes to taste
Salt and Pepper to taste
Directions
Place all of the ingredients into a blender and blend until mixture is smooth.
Transfer to a medium-sized sauce pan and place over medium heat for 10 minutes until mixture thickens.