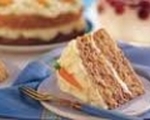 Prep: 15 min
Cook Time: 40 min
Total: 55 min
Serving: 12
Naturally sweetened with agave, this carrot cake is a healthy - but delish - alternative to usual high-fat, high-sugar recipe.
Ingredients
1/2 cup butter, softened
1 cup agave nectar (or honey)
2 eggs
2 cups finely grated carrots
1/2 cup raisins
1/2 cup chopped walnuts
Juice of a large orange
2 teaspoons pure vanilla extract
1 cup all purpose flour
1 cup whole wheat flour
2 teaspoons baking powder
1 teaspoon baking soda
1-1/2 teaspoons ground cinnamon
1/2 teaspoon ground ginger
1/4 teaspoon freshly grated nutmeg
1/2 teaspoon salt
Directions
Preheat oven to 350 degrees F. and grease a 13x9-inch baking pan.
Cream butter and agave in a large bowl until light and fluffy.
Add eggs one at a time, beating well after each addition.
In a second bowl, combine carrots, raisins, nuts, orange juice and vanilla. Set aside.
In a third bowl, whisk together flours, baking powder, baking soda, spices and salt.
Add flour mixture and carrot mixture alternately to butter mixture, mixing until just combined.
Transfer batter to prepared baking pan and bake for 40 minutes or until a knife inserted in the center comes out clean.
Cool in the pan for 10 minutes. Slice and serve warm.