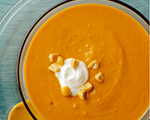 Prep: 10 min
Cook Time: 10 min
Total: 20 min
Serving: 4 Servings
This traditional dish is typically served during Kwaanza, yet can be enjoyed at any time during the year.
Ingredients
1 onion, chopped
1 teaspoon canola oil
1 teaspoon curry powder
1 10-ounce can condensed tomato soup
1-3/4 cups water
2 tablespoons natural peanut butter
1 tablespoon chopped fresh cilantro
Salt & freshly ground pepper to taste
Directions
Place the oil in a medium-sized saucepan over medium heat and sauté for 5 minutes until soft.
Add the curry powder and cook for 1 minute, and then stir in the tomato soup and water.
Bring the mixture to a simmer and then add the peanut butter and cilantro. Whisk the mixture until bended and then season to taste with salt and pepper. Serve immediately.