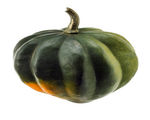 Prep: 15 min
Cook Time: 30 min
Total: 45 min
Serving: 6
Warm and wonderful on a cold winter day, enjoy this satisfying soup with a crusty chunk of buttered French bread.
Ingredients
2 tablespoons olive oil
2 tablespoons unsalted butter
1 onion, diced
4 cups diced acorn squash
2 tablespoons brown sugar
2 tablespoons pure maple syrup
1/2 cup white wine
1 teaspoon ground cinnamon
Salt and pepper to taste
4 cups chicken broth
2 cups heavy cream
Directions
Heat olive oil and butter in a stockpot over medium-high heat.
When butter is melted, add squash and onion and cook, stirring often, for 5 to 7 minutes or until tender.
Add brown sugar and maple syrup and stir to combine.
Stir in wine and season with cinnamon, salt and pepper.
Add 3 cups of chicken broth and bring to a low boil.
Reduce heat and simmer for 30 minutes.
In batches, puree squash mixture with cream in a blender or food processor.
Return to stockpot and heat over low until ready to serve (do not boil).