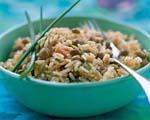 Prep: –
Cook Time: –
Total: –
Serving: Serves 4 to 6
This savory South American recipe comes from Celebrity Chef Tyler Florence, who is easily one of America's most recognized and revered culinary stars. Use the Achiote Oil recipe to give a unique flavor.
Ingredients
1 pound dried pigeon peas, picked through and rinsed
2 bay leaves
1/4 cup achiote oil (See link to recipe above)
1 medium white onion, diced
2 garlic cloves, minced
1 green bell pepper, cored and diced
1 cubanella or Italian green pepper, cored and diced
1/2 cup chicken broth
1/2 teaspoon ground cumin
1/2 teaspoon ground coriander
1/2 teaspoon cayenne
2 cups long-grain rice
1/2 lime, juiced
1 tablespoon salt
Directions
Put the pigeon peas and bay leaves in a large pot, cover with 3 quarts of cold water, and place over medium heat. Cover and cook the beans until tender, about 1-1/2 hours. Check the water periodically. Add more, if necessary, to keep the peas covered. Drain the pigeon peas and reserve 4 cups of the cooking liquid.
Preheat the oven to 350 degrees F. Coat a large Dutch oven or other ovenproof pot with the achiote oil and place over medium heat. When the oil begins to smoke, add the onion, garlic and peppers. Cook, stirring, for 10 minutes, until the vegetables have softened, without letting them brown. Pour in the chicken broth and continue to cook until the liquid is evaporated. Stir in the cumin, coriander, and cayenne.
Mix in the rice and reserved pigeon peas. Pour in the reserved 4 cups of pigeon pea cooking liquid, lime juice and salt. Stir everything together. Cover and bake for 20 to 30 minutes, until the rice is tender and the liquid is absorbed.