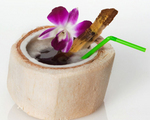 Prep: –
Cook Time: –
Total: –
Serving: Makes 1 cocktail

Although this may not be the easiest drink to create, it is simply one of the most indulgent cocktails you'll savor all summer. Created by Adam Schuman, beverage director of Fatty 'Cue in New York City, the Cocolua will take your taste buds on a luscious tropical vacation.
Ingredients
1 young coconut
1 part Kahlúa
1 part dark rum
4-ounces coconut water
1/2-ounce egg white
Splash of soda
1 stick sugar cane
1/2 tablespoon Chinese 5-Spice powder
Directions
Remove top of a young coconut by making 4 to 8 clean cuts with a cleaver. Transfer fresh coconut water into a clean container.
Combine Kahlúa, rum, coconut water, and egg whites in a small shaker. Dry shake for 20 to 30 seconds until mixture is well incorporated.
Add ice to the top of a pint glass and transfer shaken mixture over ice. Cover pint glass with large metal shaker and shake vigorously for 15 seconds.
Add a splash of soda to shaken mixture and strain back into the young coconut.
Garnish the cocktail with a stick of sugar cane that has had one end dipped in Chinese 5-Spice. Garnish additionally with a straw and small spoon for eating the flesh of the young coconut.
Filed Under:
Dinner Recipes, Drink Recipes, Dessert Recipes, Vegetarian Recipes, Christmas Recipes, Easter Recipes, Halloween Recipes, Mardi Gras Recipes, New Year's Recipes, Passover Recipes, St. Patrick's Day Recipes, Thanksgiving Recipes, Valentine's Day Recipes