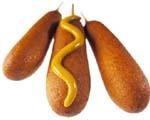 Prep: –
Cook Time: –
Total: –
Serving: Makes 6 servings
Nothing says "fun" like these classic homemade corn dogs. Who can resist food on a stick?
Ingredients
1 cup low-fat milk
2 medium eggs
1/4 cup canola oil
2 tablespoons granulated sugar
1 teaspoon salt
2 teaspoons baking powder
1 1/3 cups corn meal
2/3 plus 1/2 cup all-purpose flour
1 1/2 pounds hot dogs
Canola oil for frying
Directions
Whisk milk with eggs, oil, sugar and salt until mixed well. Add the baking powder, cornmeal, and 2/3 cup flour and whisk until smooth.
Stick popsicle sticks or wooden skewers into one end of each hot dog. Dry the hot dogs with paper towels and dip them in the remaining 1/2 cup flour and shake off excess so only a dusting remains.
Meanwhile, heat canola oil in a large pot of deep fryer until it is 375 degrees F.
Pour the batter into a tall container or jar and dip each hot dog into batter, swirling to coat fully. Remove battered hot dog, letting excess batter drip off.
Immediately place hot dog in hot oil and cook 4 to 5 minutes per side or until each side is golden. Remove cooked hot dogs from oil and let drain on paper towels for at least 5 minutes. Serve with your choice of garnishes.