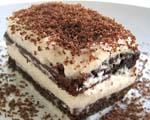 Prep: –
Cook Time: –
Total: –
Serving: Serves 4
Savoiardi may be the basic ingredient for many mouthwatering Italian sweets, but tiramisu tops the list of most renowned Italian desserts. The original tiramisu recipe calls for just a dusting of cocoa powder but this modern Italian update from Vicenzi features a wonderfully rich and creamy center of Italian dark chocolate.
Ingredients
8 Vicenzi Savoiardi
1/2 cup plus 2 tablespoons coffee liqueur such as Caffuccino
1/2 cup plus 2 tablespoons coffee liqueur such as Caffuccino 4 ounces Italian dark chocolate, such as Perugina, Vanini or Venchi, divided
1/2 cup heavy cream
5 large egg yolks
2 tablespoons granulated sugar
3 ounces mascarpone cheese
Directions
Cut the savoiardi in half, place them in a bowl, and pour 1/2 cup of the liqueur over them. Allow them to soak up the liqueur, then line 4 glasses with the savoiardi.
Melt 3 1/2 ounces of the chocolate in the cream in a glass bowl either over a double boiler or in the microwave. Allow to cool to room temperature and then divide the chocolate sauce between the 4 glasses.
Finely grate or chop the remaining chocolate as garnish and set aside. Meanwhile, bring a pot of water to a boil over medium heat.
Combine the yolks and sugar in a metal or glass heat-resistant bowl and whisk until creamy. Set the bowl over the simmering water, without letting the bottom touch the water, and continue whisking until the mixture thickens.
Add the remaining 2 tablespoons of liqueur. Continue whisking the custard until it has tripled in volume and is thick enough to coat a spoon, about 10 minutes.
Remove from the heat and cool the custard. Once the custard is cool, fold in the mascarpone and divide the mixture between the 4 cups. Sprinkle with the reserved chocolate and serve.