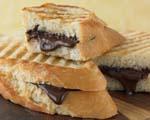 Prep: –
Cook Time: –
Total: –
Serving: Serves 4
Panettone, glorious brioche-like cake imported from Italy, is superlatively moist and delicious. Perfect for slicing and eating as is, this confection is even better when transformed into this simple-to-make dessert sandwich recipe, courtesy of Bauli. This recipe can easily be doubled if you are feeding a crowd.
Ingredients
2 whole slices of Bauli Panettone, cut 1/2-inch thick crosswise horizontally
3 tablespoons unsalted butter, softened
4 tablespoons dark Italian chocolate, such as Perugina,
Venchi or Vanini, coarsely chopped
6 tablespoons mascarpone cheese
Confectioners' sugar
1/2 pint of fresh raspberries
Directions
Cut each Bauli Panettone slice in half and then in half again creating quarter slices. You will need 2 quarters to make one panini. Butter one side of each quarter slice with 1 teaspoon of the butter and place 4 slices buttered side down on a work surface.
Top each of the 4 slices with 1 tablespoon of the chopped chocolate to within 1/4-inch of the edges of the pandoro. Place 1-1/2 tablespoons of the mascarpone in the center and top each with a second quarter slice of pandoro, buttered side up, to create a triangular sandwich.
Heat a large nonstick skillet over medium heat. When hot, add the panini without crowding the skillet and cook for 1 minute, pressing lightly with a large spatula until golden brown. Carefully turn the panini over and cook for about 1 minute longer or until golden brown and chocolate has just melted.
Transfer the panini to individual serving plates, dust with confectioner's sugar and serve at once, accompanied by fresh raspberries and a good cup of espresso or cappuccino.