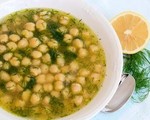 Prep: –
Cook Time: –
Total: –
Serving:
High in fiber, vitamins, and minerals – and conveniently located in your pantry – canned beans can become a near endless array of tasty meals in just minutes. Toss them in salads, soups, grain dishes and pasta. Puree them with herbs and spices for savory dips and spreads. Simply warm them up for a fast and healthy snack. If you're looking for some canned bean inspiration, sink your teeth into these easy canned bean recipes.
Ingredients
1 (15-ounce) can chickpeas, rinsed, drained
1 (6-ounce) bag spinach
1 (32-ounce) carton vegetable broth
2 bay leaves
1 teaspoon Chinese 5-spice powder
Salt and freshly ground black pepper
Directions
In a large saucepan over medium-high heat, combine chickpeas, spinach, broth, bay leaves and 5-spice. Bring to a boil then reduce heat to medium-low. Simmer for 7 to 8 minutes
Stir in green onions and season with salt and pepper. Simmer for 1 to 2 minutes more. Remove bay leaves and serve warm.