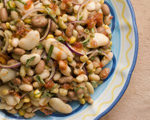 Prep: 10 min
Cook Time: –
Total: 10 min
Serving: 8 servings
You can either use dried or canned beans for this hearty and flavorful salad dish; however, remember that dried beans must be soaked for at least 12 hours before preparing.
Ingredients
1/4 cup red wine vinegar
3 tablespoons lime juice
2 garlic cloves, minced to a paste with a few pinches of sea salt
1/2 cups olive oil
1 small red onion, peeled and julienned
1 cup butter beans, cooked
1 cup great northern beans, cooked
1 cup pinto beans, cooked
1 cup corn
2 large tomatoes, small diced
1/4 cup cilantro leaves, finely chopped
1/4 cup parsley (flat leaf), finely chopped
Sea salt and freshly ground pepper, to taste
red chile flakes, to taste
Directions
Place the vinegar, lime juice and garlic into a large bowl and whisk to combine. Slowly pour in the olive oil and whisk vigorously until blended.
Add the remaining ingredients to the bowl and toss well to coat.
Season the salad to taste with sea salt, freshly ground pepper and red chile flakes; toss once more and then serve.