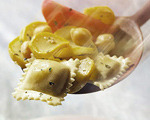 Prep: 5 min
Cook Time: 15 min
Total: 20 min
Serving: 4 Servings
If the simplicity and speed of this pasta dish doesn't surprise you, then its delicious and gourmet combination of ravioli, summer squash, tomatoes, chickpeas and spinach will.
Ingredients
1 9-ounce package light cheese-filed ravioli
2 teaspoons olive oil
2 cloves garlic, minced
1 medium yellow summer squash, thinly sliced (about 1-1/4 cups)
4 plum tomatoes, quartered
1 15-ounce can chickpeas, rinsed and drained
2 teaspoons snipped fresh thyme or 1/2 teaspoon dried thyme, crushed
1/4 teaspoon crushed black pepper
4 cups shredded fresh spinach
Directions
Cook the ravioli according to package directions and drain.
In the meantime, place the oil into a large sauté pan over medium-high heat. Once it begins to shimmer, add the squash, tomatoes, chickpeas, thyme, and black pepper and sauté the mixture for 5 minutes. Add the pasta to the pan and then toss the mixture to combine.
Evenly divide the spinach between 4 serving plates and then top with the pasta mixture; serve immediately.