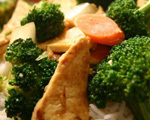 Prep: 5 min
Cook Time: 20 min
Total: 25 min
Serving: 4 Servings
A quick and healthy chicken dinner that can be cooked in just 20 minutes, this meal packs fiber, protein and nutrients in every bite.
Ingredients
2 cups broccoli florets
4 medium carrots, cut lengthwise into strips
1 tablespoon olive oil
4 medium boneless skinless chicken breasts (1-1/4 pound total), cut lengthwise into thirds
Salt and freshly ground black pepper
1/2 of a medium red onion, cut in thin wedges
1/2 cup reduced-sodium chicken broth
1 15-ounce great Northern beans, rinsed and drained
1 tablespoon finely shredded lemon peel
Directions
Steam the broccoli and the carrots in a steam basket over a pot of boiling water for 4 minutes and then set aside.
Place the olive oil in a large sauté pan over medium-high heat.
Sprinkle the chicken on both sides with salt and pepper, and then place in the pan once the oil begins to shimmer. Cook the chicken for 12 minutes, turning twice to ensure even cooking and then remove from pan and set aside.
Reduce the heat to medium-low and stir in the onion. Sauté the onion for 2 minutes before increasing the heat to medium-high and adding the beans, broth, lemon peel and chicken. Sprinkle the mixture with salt and pepper to taste and cook for 2 more minutes. Serve hot.