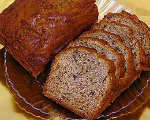 Prep: 25 min
Cook Time: 1 hr 15 min
Total: 1 hr 40 min
Serving: 2 loaves
A dense banana bread recipe that makes 2 loaves. One for now, one to share or freeze!
Ingredients
5 very ripe bananas
4 eggs
1 cup of butter softened
2 and 1/2 cups white sugar
1 tablespoon vanilla extract
3 and 1/2 cups flour
2 teaspoons baking soda
1 teaspoon salt
Optional 1 cup of chopped walnuts
Directions
Preheat the oven to 300 degrees Fahrenheit. Grease 2 loaf pans (9x5 inch)
Mash bananas. Add eggs, mix well and set aside.
Combine butter and sugar and beat until combined. Add vanilla. Stir in banana mix.
Combine the flour, salt and baking soda. Whisk to blend.
Stir the flour mixture in with the banana mixture. Beat until well blended. Add the optional walnuts.
Pour the batter into the loaf pans.
Cook for 1 hour and 15 minutes, until a toothpick inserted in the center comes out with crumbles (not batter). Allow to cool before removing from pan.