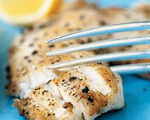 Prep: 10 min
Cook Time: 15 min
Total: 25 min
Serving: 4 Servings
A simple and delicious tilapia dinner dish, serve with a side of brown rice and sautéed vegetables drizzled in olive oil.
Ingredients
4 tilapia fillets
3 tablespoons fresh lemon juice
1 tablespoon butter, melted
1 clove garlic, finely chopped
1 teaspoon dried parsley flakes
Freshly ground pepper to taste
Sea salt
Directions
Preheat the oven to 375 degrees.
Put the lemon juice, butter, garlic, parsley, salt and pepper into a small bowl and whisk to combine.
Place the fish in an oven-safe glass dish and add the garlic mixture, making sure the fish is coated on all sides. Cover the pan with foil.
Put the pan in the oven and bake for about 15 minutes or until fish flakes with a fork.