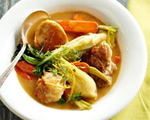 Prep: 10 min
Cook Time: 20 min
Total: 30 min
Serving: 4 Servings
The addition of bok choy, baby carrots and lemon makes this chicken stew light and elegant.
Ingredients
1 small lemon juiced and peeled, peel thinly shredded
1-1/4 pounds skinless, boneless chicken thighs
Salt and freshly ground black pepper
1tablespoon olive oil
8 ounces baby carrots with tops, scrubbed, trimmed and halved lengthwise
1 12-ounce jar chicken gravy v
1-1/2 cups water
1 tablespoon Dijon-style mustard
2 heads baby bok choy, quartered
Lemon thyme to garnish
Directions
Sprinkle the chicken on both sides with salt and pepper.
Place a Dutch oven over medium-high heat and add the olive oil. Once it begins to shimmer, add the chicken and brown for about 4 minutes.
Place the carrots, gravy, mustard and water into the pan and stir to combine. Bring the mixture to a boil and then add the bok choy.
Reduce the heat to medium low, cover the Dutch oven and simmer for 12 minutes.
Stir in the lemon juice and serve the stew garnished with the shredded peel and some fresh lemon thyme.