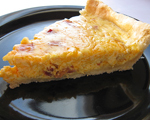 Prep: 15 min
Cook Time: 45 min
Total: 1 hr
Serving: Serves 8
A classic quiche is made by using rich ingredients like eggs, cream and cheese. Serve a slice of this Quiche Lorraine with a side of baby greens drizzled with Champagne vinegar vinaigrette.
Ingredients
8 slices of thickly cut bacon
3 eggs
2 cups whipping cream
1/2 teaspoon salt
1 pinch pepper
1 pinch nutmeg
1 cup grated Swiss cheese
2 tablespoon butter, cut into pea-sized dots
8-inch pastry shell
Directions
Preheat the oven to 375 degrees.
Pre-bake the pastry sheet by placing in oven for 10 minutes. Remove and set aside.
Wearing oven mitts, place the oven rack in the upper third of the oven.
In a medium-sized skillet, fry the bacon over medium heat until crispy and then drain on paper towels. Allow to cool and then coarsely chop into small pieces.
In a medium bowl, beat the eggs, cream, nutmeg, salt and pepper until well combined. Stir in the bacon and the cheese and mix well.
Pour the quiche filling into the prepared pastry shell and drop pea-sized pieces of butter all over top of quiche. Place in the oven and bake for 30 minutes; pastry will puff out and turn golden brown on top. Rest quiche for 5 minutes and then slice and serve.