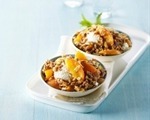 Prep: 5 min
Cook Time: 30 min
Total: 35 min
Serving: 6 servings
A sweet and crunchy concoction of peaches, almonds, oats, Kellogg's All-Bran® cereal, and ice cream or yogurt
Ingredients
125 millilitres (1/2 cup) flour
50 millilitres (1/4 cup) old-fashioned rolled oats
300 millilitres (1-1/4 cups) All-Bran Original® or All-Bran Buds® cereal
125 millilitres (1/2 cup) sliced almonds
125 millilitres (1/2 cup) brown sugar
5 millilitres (1 teaspoon) ground cinnamon
50 millilitres (1/4 cup) butter, softened
1 litres (4 cups) peeled and sliced peaches
30 millilitres (2 tablespoons) honey or maple syrup
Directions
In bowl, combine flour, oats, cereal, almonds, brown sugar and cinnamon. Stir in butter until well blended.
Spread peaches and honey evenly into a greased 2-liter (8-inch) square baking dish. Cover with All-Bran® almond topping.
Bake at 190 degrees C. (375 degrees F.) until crumble topping is golden and fruit is hot and bubbling, about 30 minutes.