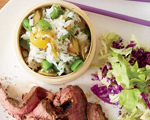 Prep: 10 min
Cook Time: 15 min
Total: 25 min
Serving: 10 Servings
Jasime Rice, also known as Thai fragrant rice, is a long-grain rice variety that has a slightly nutty aroma and light texture. Enjoy it in this recipe tossed with sugar snap peas, cherry tomatoes, sliced cornichons and fresh basil.
Ingredients
1/2 pound sugar snap peas, trimmed
3 cups jasmine rice
1/4 cup plus 2 tablespoons vegetable oil
6 tablespoons rice vinegar
1 pint yellow or red cherry tomatoes, halved
1/2 cup thinly sliced cornichons
1 cup chopped basil
Salt and freshly ground pepper
Directions
Blanch the sugar snap peas in a saucepan of boiling water for 30 seconds, transfer to a cold water bath and then drain. Cut into 1/2-inch pieces and then set aside.
Cook the rice according to package directions, fluff with a fork and allow to cool.
In the meantime, place the oil and vinegar into a bowl and whisk together until combined. Add the rice, sugar snap peas, cherry tomatoes, cornichons and basil. Sprinkle the mixture with a few pinches of salt and pepper and then toss well to combine.