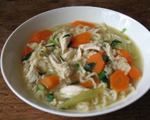 Prep: 10 min
Cook Time: 20 min
Total: 30 min
Serving: 2 Servings
An Asian-inspired, light soup with a delicious ginger-flavored broth. Use fresh ginger, not powdered, for more authentic and intense taste.
Ingredients
1 2-inch piece fresh ginger, peeled and chopped
1 cup water
3 cups reduced-sodium chicken broth
1/2 pound chicken tenders
2 medium carrots, cut diagonally into 1/2-inch slices
1 large celery rib, halved lengthwise and cut diagonally into 1/2-inch pieces
1 3-ounce package rice noodles
1/4 cup chopped parsley
Directions
Place the ginger and the water into a blender and puree on high.
Transfer the ginger mixture to a soup pan and pour in the chicken broth. Stir to combine then bring to a boil.
Once boiling, add the chicken and reduce the heat to medium. Simmer the mixture for 5 minutes and then remove the chicken and place into a bowl. Coarsely shred the chicken once cool enough to handle.
Stir in the carrots and the celery and cook for 10 minutes, then add the noodles and cook for an additional 4 minutes.
Add the chicken to the soup and then sprinkle in the parsley. Stir to combine and serve immediately.