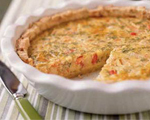 Prep: 15 min
Cook Time: 50 min
Total: 1 hr 5 min
Serving: 6 Servings
This pie has a creamy and fresh filling made with 3 different kinds of cheeses, spinach and tomatoes. Use a pre-purchased deep dish pie crust to save on time.
Ingredients
1 deep dish pie crust
2 large beefsteak tomatoes
1/2 large onion
1 cup shredded Monterey jack cheese
1 cup shredded cheddar cheese
5 tablespoons fresh parmesan cheese
1 bag fresh spinach
1 yellow squash
4 tablespoons Panko bread crumbs
1-1/2 tablespoons olive oil
salt, pepper and oregano to taste
Directions
Preheat the oven to 400 degrees.
Place the pie crust in the oven and cook for 10 minutes. Remove from oven and set aside.
Reduce heat in oven to 350.
Rinse off the tomatoes and cut into round slices; set aside.
In a medium-sized sauté pan, heat the oil over medium-high heat until hot but not smoking. Add the spinach, garlic and onions and cook until onions are soft.
Add the squash and continue to sauté ingredients for about 6 minutes. Sprinkle in salt, pepper and oregano to taste.
Place the vegetable mixture into the pie crust and then layer on the tomatoes, Jack and cheddar cheese. Sprinkle the breadcrumbs and the Parmesan cheese over the top and bake for 30 minutes.