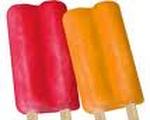 Prep: –
Cook Time: –
Total: –
Serving: 4-6 People
The story goes that when Frank Epperson was 11 years old he created this ice treat by accident and waited 18 years before producing the first "Eppsicles" in 1923. Later the name was changed to the more catchy "Popsicle."

The first of these frozen ice treats were sold for a nickel―hard to believe when you look at the prices charged today! But it won't cost you much more than that to make your own at home. Here's an easy, basic popsicle recipe!
Ingredients
3-ounce package gelatin (Jell-O or store brand), any flavor
1 packet unsweetened, flavored drink mix (Kool-Aid)
1 cup granulated sugar
1 cup boiling water
Directions
Combine all ingredients in a 2 quart plastic pitcher. Stir until dissolved. Add enough cold water to make 2 quarts.
Pour into small paper drinking cups and freeze until it starts thickening, then insert a popsicle stick and continue to freeze until hardened.