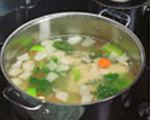 Prep: 15 min
Cook Time: 45 min
Total: 1 hr
Serving: Makes about 8 cups of stock
A great stock to use when cooking Asian fare; this stock will make your dishes even more flavorful and authentic.
Ingredients
1/2 cup Fresh Lemon Grass, chopped
1 small Garlic Head, peeled
5 slices Fresh Ginger Root
2 cups Scallions, chopped
1 cup Carrots, chopped
1 cup Celery, chopped
1 Serrano Pepper, chopped
7 teaspoons Soy Sauce
1 tablespoon Tamarind Paste
4 large Mushrooms, sliced
8 cups Water
Directions
Place the chopped lemongrass, garlic, fresh ginger, chopped scallions, chopped carrots, chopped celery, chopped Serrano, soy sauce, tamarind paste, sliced mushrooms, and water into a large pot, and bring the mixture to a boil over medium-high heat.
Once boiling, reduce the heat to low and simmer the mixture for 45 minutes,
Strain the liquid using cheesecloth, discard any solids and then transfer the stock to a glass container. Once cool, tightly cap and store in the refrigerator until ready to use.