11-12 of 127 total recipes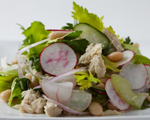 This light Italian-inspired salad is a perfect dish for entertaining. Use imported Italian tuna in oil for the best taste.
Cook Time: –
Serves: 4 Servings
Recipe provided by SheKnows on Feb 15, 2011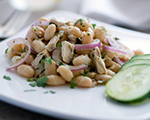 Packed with protein and fiber, this delicious combo of tuna and white beans is both healthy and delicious.
Cook Time: –
Serves: 4 Servings
Recipe provided by SheKnows on Dec 27, 2010