Your baby this week
14 weeks pregnant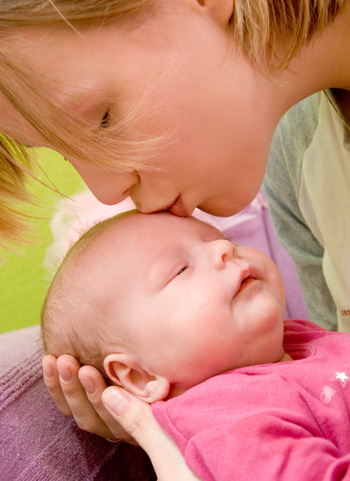 Planning for childcare
When you're evaluating your out-of-home childcare options, it's important to consider how well -- or how poorly -- each childcare center or home daycare will meet the needs of your child. Here are some suggestions from Ann Douglas, author of the book The Unofficial Guide to Childcare, from her article In Search of Mary Poppins:
Infants (ages birth to eighteen months) thrive in environments in which there is a low caregiver-child ratio (ideally 1:1 but no more than 1:3) and a small group size (ideally three or less but certainly no more than four). Because they need to have the opportunity to build strong attachments to their caregivers, they should be cared for by the same caregiver day after day. These caregivers should genuinely love babies and should be prepared to respond to their needs as quickly and effectively as possible.
---
Extra!
Have your dreams been especially vivid since you've been pregnant? Many women report strange dreams during pregnancy, or at least seem to remember their dreams better than before conception.
"Is anyone else dreaming more than normal, or weirder than usual? I usually have weird dreams, but only every once in a while. Lately though I have several a night. It's to the point where I feel like I am not even getting restful sleep because I feel like I'm just dreaming all night. Last night, I had 2 in the span of 30 minutes and a third later in the night. One of the first 2 was that I was being attacked in a mall parking lot late at night. The other 2 were just as weird and out of the blue." - Jessica
According to Clinical Psychologist John Suler, PhD, "Try not to give into the pressure to 'interpret' a dream. If you put yourself or others on the spot to 'tell me what it means' then you are taking the wrong attitude toward working with the dream. It's not a game of Jeopardy or a multiple choice test where there's a right or wrong answer. Working with a dream is more like playing with it -- the kind of play that involves creativity, imagination, and a willingness to experiment. It also requires patience!"
Find out more: What do pregnancy dreams REALLY mean?
---
Kick it up
She's a fabulously funny mom and journalist from California, giving a voice and laughs to GenX moms everywhere. She recently gave advice to other moms as our SheKnows parenting expert on topics such as kids and lying and the boy in Texas suspended for long hair. She has put her humorous columns together in a book called "Keep Your Skirt On: Kicky Columns With Legs." Even her name has kick: Starshine Roshell.
Check out our interview with this author/mama at RealMomsGuide.com!
---
Come on over to meet other expectant moms on the Pregnancy & Baby message boards!
---
Thinking about baby names?
Curious about what celebrities name their wee ones? Click here and here for an alphabetical list, and here for a list of the more unusual ones!
---
Simplify shopping
Get organized before you hit the supermarket by printing this blank grocery list -- or use this extensive grocery list for a head start! (Also see this article: 7 tips for saving money at the supermarket: Boost your grocery budget.)
Sign-in
Already a member? Sign-in to access your profile and learn about the changes your baby is going through today!
Sign-in to your account »
---
Sign-up
Create your own personalized pregnancy calendar. Get day-by-day updates about your baby's progress, store notes, log doctors appointments and more.
Sign-up now »
---