Your baby this week
14 weeks pregnant
Your baby now
Because your baby's skin is very thin, blood vessels show through the skin at this point, and lanugo -- fine hair -- covers its body. Fingernails are well formed, and the baby is moving its arms and legs. Fetuses this age have been seen on ultrasound sucking their thumbs!
Get more insight into your little one's development right here.
---
To dye for
P&B reader Lisa asks: "Is it safe to color my hair now that I am pregnant? I am not thrilled with letting my dark roots grow out for the next seven months. I would really like to continue to color it. What do you think?"
Our expert answers:"Of course I would strongly recommend that you discuss this question with your doctor and get their opinion. Any type of chemical process that you undertake during pregnancy needs to be seriously considered. The ultimate decision should depend on what your doctor recommends. You should also consider the possibility that your hair will change during your pregnancy. Hair texture, condition and growth cycles can all be altered for as much as up to one year after birth. In some cases, the impact on your hair from the change in your hormones can last indefinitely."
Read more about the ins and outs of coloring your hair during pregnancy here! -- and for more hair ideas and tips, check out the Hairstyle Lounge!
---
Pop quiz answer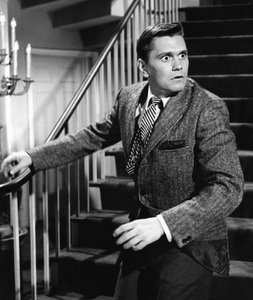 Even without a magic spell (per yesterday's question about Bewitched), some fathers-to-be do experience pregnancy symptoms, such as nausea, indigestion, a change in appetite, weight gain, constipation, headaches and emotional highs and lows.
Called couvade, or couvade syndrome (for the French word couver, meaning "to hatch") these are essentially sympathetic pregnancy characteristics that can seem very real. Rest assured, only one of you will actually deliver.
---
Tone the core
By far, the most important area of your body to strengthen and tone before, during, and after pregnancy is your torso. Without strong abdominal and back muscles, you risk injuring your back and developing poor posture throughout the rest of your pregnancy. Bad habits are hard to break!
Just by sitting on the fitness ball, you engage all of the muscles that support the growing uterus. Try to sit on the ball as much as you can throughout the day to strengthen your core. If you feel any back discomfort, that means your muscles are tired and need to rest. Many people use fitness balls to sit at their desk or to watch television. Be creative!
Read on for more information about fitness balls during pregnancy.
Sign-in
Already a member? Sign-in to access your profile and learn about the changes your baby is going through today!
Sign-in to your account »
---
Sign-up
Create your own personalized pregnancy calendar. Get day-by-day updates about your baby's progress, store notes, log doctors appointments and more.
Sign-up now »
---