Your baby this week
13 weeks pregnant
"Hi, mom!"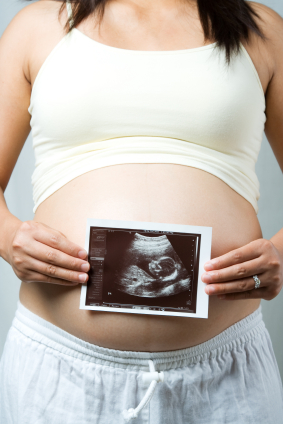 Little feet, beating heart, wiggly waves… almost any expecting parent (and families and friends) can tell you that the anticipation to see their bun in the oven make his or her onscreen debut is almost unbearable!
The baby's first ultrasound typically occurs around 18-20 weeks gestation, but some lucky parents get to peek in on their baby-to-be earlier depending on your caregiver, insurance, and circumstances.
Find out what to expect at an ultrasound and what your doctor will be looking for as far as your baby's development!
>>> Ultrasound basics for expecting moms
---
Luck o' the Irish
Irish baby names are a popular name trend for that unique and exotic sound.
Are you looking for names that parents in Ireland actually name their baby girls and boys? From easily-recognized names, such as Daniel and Sarah, to distinctly Irish-sounding names, like Cillian and Aoife, check out the most popular Irish baby names for girls and boys!
---
Eating well during pregnancy
Eating when you don't want to -- or chowing down on foods you don't really like -- can be stressful when you're expecting. Just because you know you need to eat well because you're building a baby doesn't necessarily mean you're going to enjoy it.
But have hope: Counting nutrients, balancing food groups and finding foods that are as appealing as they are healthy doesn't have to leave you hungry for an easier way to eat. Click here to read 10 ways to eat smart and make it enjoyable too!
---
In real life
Did you know that you can browse real moms' birth stories on Pregnancy & Baby?
Heather had an unassisted homebirth. "I knew in my heart that I didn't want, nor need any midwife at this birth. I had an intuition that told me my son would come early, water would break, and birth would be fast. Yet Dean wanted someone to be there 'just in case' something happened. Once it was obvious that no one with 'skills' would be coming, Dean prepared himself a bit. My water broke the next day, 12 days before my estimated due date. Contractions came on and off that night but they only felt like Braxton-Hicks contractions. I only got three hours of sleep that night."
Read the rest of her story here, and check out birth stories sorted by category right here.
Sign-in
Already a member? Sign-in to access your profile and learn about the changes your baby is going through today!
Sign-in to your account »
---
Sign-up
Create your own personalized pregnancy calendar. Get day-by-day updates about your baby's progress, store notes, log doctors appointments and more.
Sign-up now »
---