Your baby this week
13 weeks pregnant
The best option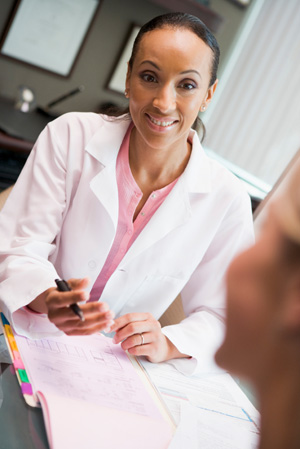 From extremely personal conversations about your weight to your delivery expectations, your professional birthing partner will be with you, your co-parent and your baby throughout your journey. Interview several professionals to find one that best suits you and your partner.
Scottsdale, Arizona expectant mom Elaine Dzik met with obstetricians, midwives, and even her family doctor prior to finding an obstetrician that she felt was right for her. "I wasn't sure if I wanted to choose a male or female doctor, have my baby at home, experience natural childbirth or opt for pain medicine, so I consulted several experts," says Dzik.
It's really not too early to start figuring this stuff out!
Click here to find out how to find the birthing option that is right for you.
---
In the know
At the start of your second trimester, you may now be able to feel your uterus above the pubic bone, a few inches below your belly button. To you, it might feel like an orange in your abdomen! You are probably losing your waistline and are ready to move into roomier clothing.
---
Chinese conception gender chart
Can this centuries-old lunar chart predict your baby's gender? Will your baby be a boy or a girl? This ancient chart is supposed to predict your child's gender, based upon your age and the month of conception! The chart was supposedly discovered in a tomb and is rumored to be over seven centuries old. (The original is said to be on display at the Beijing Institute of Science in China.)
How accurate is it? Reports vary -- so don't paint the nursery based on the results -- but it's still fun to see what is predicted for you! Check it out here.
---
Style notes

You may be thinking more and more about maternity clothing as your uterus starts to make its presence known and your pants don't zip up like they should.
Aimee asks: "I just found out that I am expecting my first baby! We are so excited, but I know that our budget does not have much wiggle room when it comes to my new maternity wardrobe. What can I do to look and feel great for the next nine months?"
Our expert answers: "First of all, congratulations! As a new mom myself, I know exactly what sort of challenge you are facing! I have two words for you: key pieces. Any closet should contain those staple items that you can work in to any outfit for a multitude of occasions. Expecting or not, the white T, the perfect jeans and the black dress are a few items every woman should have on hand.
"When buying a set of basics for the new mama look, know that you can still jazz them up and change simple pieces with accessories! While your body will be changing, do not fret about losing your personal style, you will be glowing and fabulous with these tips." Check out her advice here!
---
Odds and ends
Your body changes so much during pregnancy -- and those changes show up literally from head to toe! Read up on what to expect: Strange changes in your pregnant body.
Sign-in
Already a member? Sign-in to access your profile and learn about the changes your baby is going through today!
Sign-in to your account »
---
Sign-up
Create your own personalized pregnancy calendar. Get day-by-day updates about your baby's progress, store notes, log doctors appointments and more.
Sign-up now »
---