Your baby this week
9 weeks pregnant
Prenatal fitness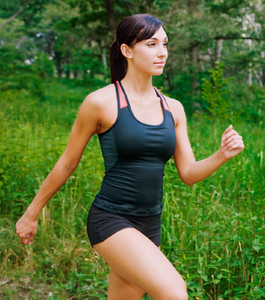 You know that exercise is good for you at any stage of your life -- and you probably know that working out during pregnancy helps you maintain a healthy weight as well as prepare you for the big workout (labor), but possibly you are having trouble getting motivated to work out, particularly if you're not feeling your best in the first trimester. How can you get motivated to work out?
Lisa Stone, an ACE-certified Pre-and Post-Natal Fitness Instructor, has some tips to get you up and moving!
"Lack of motivation is a very common barrier to exercise, so my suggestion is to set small goals for yourself and gradually work into exercise. For example, the first week, post a note on your bulletin board or refrigerator that says, 'I will go for a 15 minute walk Monday and Thursday (or whatever days work for you).' Once you accomplish that goal, treat yourself to the current issue of a fitness magazine for inspiration."
---
In the know
Drinking any amount of alcohol during pregnancy is not recommended. It is not known if there is a safe amount you can drink, so it's best not to do it at all. Fetal Alcohol Syndrome, a condition in which the baby's growth can be slowed and have other defects, may set in if the mother drinks heavily during pregnancy.
---
Pregnant... at a wedding?
"You're positively glowing!" It's a compliment we all love to hear, and it's one often heard by both brides and pregnant women alike.
Whether you're a pregnant bride or a pregnant bridesmaid, a wedding is your time to shine. No need to hide your gloriously protruding belly, and there's definitely no need to hide how fabulous your breasts look right now.
We've come a long way from the days when pregnant brides accepted a quiet, civil ceremony so that no one could see "her condition," and we're thankfully done with bridesmaids stepping out of the bridal party so as not to be "the pregnant one."
Click here to read on and also see these Beautiful maternity wedding gowns!
---
What are supertwins?
Beyond twins, supertwins are triplets or more (aka "higher order multiples"). As these multiple pregnancies are quite different than singleton births, if you're expecting supertwins, you'll want to have support and information from experts and other parents who have real-life advice and information.
Click here for information about Mothers of Supertwins (MOST), an international non-profit support network of families with triplets and more. MOST provides information, resources, empathy and good humor during pregnancy, infancy, toddlerhood and school age.
For more information and support, also take a look at the book The Joy of Twins and Other Multiple Births: Having, Raising, and Loving Babies Who Arrive in Groups -- and check out these stories of big families:
Sign-in
Already a member? Sign-in to access your profile and learn about the changes your baby is going through today!
Sign-in to your account »
---
Sign-up
Create your own personalized pregnancy calendar. Get day-by-day updates about your baby's progress, store notes, log doctors appointments and more.
Sign-up now »
---