Your baby this week
9 weeks pregnant
Extra!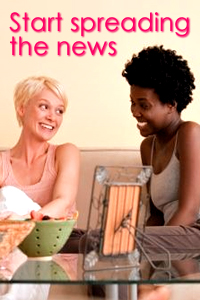 Ever since you were a little girl, you knew you wanted to be a mom -- and now it's your turn to tell the world you're going to be one! So after the pregnancy test comes back positive, why not make this special time in your life memorable by finding out about some creative ways other parents announced the miracle to friends and relatives? We have some tips for you in the article Start spreading the news: Ways to tell the world you are pregnant!
---
In the know
All medications -- even over-the-counter remedies available without a prescription -- should be approved by your caregiver. There are some safe medications for ailments during pregnancy like migraine? Find out which medications are good here, and then read up on getting flu shots while pregnant.
You can also investigate non-drug treatments as well! Using natural remedies may be best for the management of cold symptoms in pregnant women. For example, for congestion, saline sprays (sterile saltwater) are non-medicated sprays that may help. Increasing the moisture content of the air may assist in relieving congestion as well. You can achieve this by using a cool mist humidifier. To learn more, click here!
---
Think thong?
There are all kinds of maternity undies are out there -- from the under-the-belly bikinis to the up-to-the chest briefs. But did you know that maternity thongs are also available? Some women swear they're super comfortable; others wear them simply because they make them feel like their old sexy selves. Read more about thongs -- and much more -- on our maternity style site at PregnancyFashion.com!
---
Get in balance
How does your center of gravity change during pregnancy? While you are pregnant you may notice your balance is a little off. It is something you need to be aware of to prevent accidents.
Lisa Stone, an ACE-certified Pre-and Post-Natal Fitness Instructor, tells us how to accommodate for this change while we are working out. "Your center of gravity shifts upward during pregnancy, increasing your risk of tripping or mis-stepping. To accommodate your changing center of gravity while you workout, just slow down your movements a bit and avoid any quick changes in direction. If you like to walk or run for exercise, be sure that your path is smooth and even so that you don't trip on a crack or pothole. Once your pregnancy progresses to the point where you can no longer see your feet, be extra careful to avoid stepping on any stray objects."
To read more, click here!
Sign-in
Already a member? Sign-in to access your profile and learn about the changes your baby is going through today!
Sign-in to your account »
---
Sign-up
Create your own personalized pregnancy calendar. Get day-by-day updates about your baby's progress, store notes, log doctors appointments and more.
Sign-up now »
---