Your baby this week
8 weeks pregnant
Stretch it out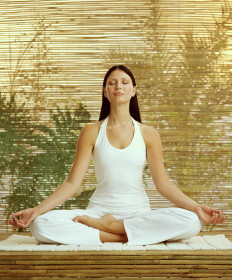 Why would you take a prenatal yoga class? Prenatal yoga benefits the beginner as well as the seasoned yoga practitioner. When you're pregnant you become more flexible because of a hormone called relaxin, and so it is perfect for the beginner. Yoga instructor and nurse Carmela Catutti explains the benefits of doing yoga during pregnancy:
Pregnancy yoga taught with an internal focus benefits the woman's labor tremendously. The more you are internally connected, the more energy you'll have for the process of labor. You will be able to access energy that you didn't know you had. It can be an entirely empowering experience. The urge to give up may be at hand, but if you've focused in a yoga class you'll know how to do that when the going gets tough.
Read more about pregnancy yoga here.
---
Early signs
You may hardly notice that you're pregnant: you won't be showing, and may not yet have felt any changes in your body. Things that could start happening soon include new feelings of fatigue, the need to urinate more frequently due to hormonal changes or as your uterus enlarges and puts pressure on your bladder, changes in your breasts (including tenderness, darkening of the areola and increasingly visible surface veins), and food cravings or aversions.
Also know that some moms never "feel pregnant," so don't worry if you just feel great -- just enjoy it!
>> Six possible early signs of pregnancy
---
Twin dads
Here are some celebrity dads who have had twins!
Jerry O'Connell (girls Dolly Rebecca Rose & Charlie Tamara Tulip)
Brad Pitt (boy/girl Knox Leon & Vivienne Marcheline)
Charlie Sheen (boys Max & Bob)
Denzel Washington (boy/girl Malcolm & Olivia)
Matthew Broderick (girls Marion Loretta Elwell & Tabitha Hodge)
Marc Anthony (boy/girl Max and Emme)
Patrick Dempsey (boys Sullivan & Darby)
Patrick Dempsey (Darby Galen & Sullivan Patrick)
Dennis Quaid (Thomas Boone and Zoe Grace)
Michael J Fox (girls Aquinnah Kathleen & Schuyler Frances)
Mel Gibson (boys Edward and Christian)
Dave Matthews (girls Stella and Grace)
Sean 'P Diddy' Combs (D'Lila Star and Jessie James)
---
Breathe easy
Do you suffer from asthma and wonder how it (and your medications!) will affect your baby? If so, you're not alone. Asthma is one of the most common pregnancy complications, affecting about one of every 100 pregnant women.
The key to a healthy pregnancy and baby, according to the American College of Allergy, Asthma and Immunology (ACAAI), is to make certain to control your asthma. The ACAAI recommends that you avoid triggers such as cigarette smoke, exposure to animals, and dusty and damp environments. Stay in an air-conditioned place during pollen seasons and when the pollution index is high; wear a mask or scarf around your face on excessively cold days to warm the air before you breathe it. Stay away from crowds in which cold and flu viruses may be prevalent, and avoid foods or chemicals that might have caused a reaction in the past, such as sulfites or MSG.
To find out more about asthma and pregnancy, click here.
---
Your medical caregiver
Many women automatically seek an obstetrician for their prenatal care. But why not consider a midwife? In this article, the authors tell you what midwives do and conquer some common myths and misperceptions regarding Certified Nurse-Midwives (CNMs).
How much do you know? This emphasis on the "disease model" is what separates the modern-day midwife who practices natural, holistic birthing methods from the more popular medical model of medicated deliveries that involve often unnecessary interventions. Midwives approach care of the pregnant woman differently from doctors by emphasizing the woman's emotional and physical well-being, as well as that of her family. Read more here!
Sign-in
Already a member? Sign-in to access your profile and learn about the changes your baby is going through today!
Sign-in to your account »
---
Sign-up
Create your own personalized pregnancy calendar. Get day-by-day updates about your baby's progress, store notes, log doctors appointments and more.
Sign-up now »
---