Your baby this week
7 weeks pregnant
Get a strong core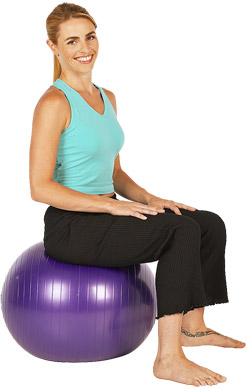 By far, the most important area of your body to strengthen and tone before, during, and after pregnancy is your torso. Without strong abdominal and back muscles, you risk injuring your back and developing poor posture throughout the rest of your pregnancy. Bad habits are hard to break!
Just by sitting on a fitness ball (also known as a stability ball), you engage all of the muscles that support the growing uterus. Try to sit on the ball as much as you can throughout the day to strengthen your core. If you feel any back discomfort, that means your muscles are tired and need to rest.
Many people use fitness balls to sit at their desk or to watch television. Be creative!
Read on for more information about using fitness balls.
---
Ace those tests
British glamour model Jordan (Katie Price) was so shocked to find out she was pregnant for the second time, she did nine pregnancy tests just to be sure.
She told the UK's OK! magazine that her then-partner, singer Peter Andre, could not believe the news, so they did tests every day for more than a week "until he had to believe it."
And while we're on the topic of the super-augmented Jordan, find out: Can you breastfeed with breast implants?
---
In the know
Keep taking your prenatal vitamins! Don't, however, take extra vitamins without prior approval from your caregiver.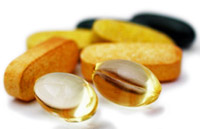 Vitamin C and E supplements do not lower the risk of pre-eclampsia -- a high blood pressure disorder of pregnancy -- in pregnant women with a high chance of developing the condition, according to the results of a randomised trial published online in March 2006 by The Lancet. The study also found that vitamin C and E supplements might, in fact, increase the rate of low birthweight babies.
---
That's so hot!
No matter the source of the heat, you should avoid raising your body temperature too much during pregnancy. This means skipping hot baths and soaks in the hot tub, as well as staying out of the sun and the sauna. Such heat has been linked to miscarriage and birth defects.
To find out about some perhaps not-so-obvious heat sources, look right here!
---
Another countdown
The Pregnancy Countdown Book: Nine Months of Practical Tips, Useful Advice and Uncensored Truths starts on Day 280, and counts down the biggest milestones every step of the way with one page of helpful information for each day of your pregnancy. Here are tips from doctors and midwives, amusing anecdotes and quotes, and occasional gory-but-necessary details.
Every page offers an interesting revelation. On Day 231, your baby will be the size of a blueberry -- but by Day 168, he'll be the size of a large avocado. By Day 199, the author suggests ignoring what women over 55 have to say about childbirth -- things have changed a lot since their day. And Day 215 brings up the sad truth about the fact that you won't get any preferential treatment (help with your bags, a seat on the train) until you finally start showing.
Sign-in
Already a member? Sign-in to access your profile and learn about the changes your baby is going through today!
Sign-in to your account »
---
Sign-up
Create your own personalized pregnancy calendar. Get day-by-day updates about your baby's progress, store notes, log doctors appointments and more.
Sign-up now »
---