Your baby this week
7 weeks pregnant
Nervous to test?
For many women, that first "Oh my gosh! I'm having a baby!" moment comes when they, as one mom put it so eloquently, "pee on a stick" and see that second line appear. The event is fraught with anxiety, fear, elation and, of course, humor -- all those emotions that will see you through the next nine months.
Here, moms share their memories of that most nerve-wracking experience: Taking a pregnancy test.
---
Make a note
Be sure you have an adequate intake of fluids -- dehydration isn't good for you or the baby and may land you in the hospital. If you are having a hard time keeping anything down, try chilled water, water mixed with fruit juice or crushed ice.
If you're having trouble getting excited about drinking lots of water, check out this article for lots of tips and ideas on how to drink what you (and your baby) need!
---
No worries
Fear, worry and anticipation go hand-in-hand when we are expecting. For those of us who have experienced loss or a series of losses, anxieties are usually heightened, often for the duration of pregnancy. Ann Douglas, author of The Unofficial Guide to Having a Baby, shares her thoughts about pregnancy after loss and provides tips to help moms stay sane while surviving this emotional and stressful time.
---
Looking ahead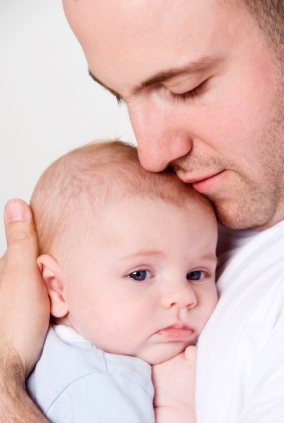 What will your partner's role be in your pregnancy and birth? In the seventies, a partner's role in the birthing and pregnancy process was finally brought to where it belonged: next to the mother. With the advent of the Bradley birthing methods, fathers were finally given something important to do. They became "coaches" for the birthing event, and their need to be needed was fulfilled. To read more, click here!
---
Weighty worries
Says P&B blogger Jennifer:
"I'll admit I sort of obsessed about weight gain during pregnancy. I was always sort of thin, and being heavier, even though I knew it was because I was preggers, was tough for me. Not so much because I was thinking about how I looked, but carrying around extra weight was new and really weird. That said, you really should try to cut back on the obsessing."
Here's why you don't need to obsess about pregnancy weight gain
Sign-in
Already a member? Sign-in to access your profile and learn about the changes your baby is going through today!
Sign-in to your account »
---
Sign-up
Create your own personalized pregnancy calendar. Get day-by-day updates about your baby's progress, store notes, log doctors appointments and more.
Sign-up now »
---